Please note, this page is run by volunteers and may not have the most up to date information.
Follow the links below for reuse, recycling, and disposal options around Salem for a variety of items. Check out Recycle Smart and their Recyclopedia for more general information to determine if you should put an item in the trash or recycling.
Appliances
Art and School Supplies
TerraCycle Free Recycling Programs – check Bic and Dixon sponsored programs – SalemRecycle collection bin for the Bic program that accepts all brands in City Hall Annex 
Crazy Crayons  recycles and sells recycled crayon products
Rethink Recycling proper disposal of aerosol cans – TerraCycle has 7 branded programs that accepts aerosol cans
Automotive
Batteries
Bedding and Towels
Bikes and Tires
Bikes can be donated to:
Bikes Not Bombs – you can drop off at their HQ in Jamaica Plains or at one of their upcoming scheduled bike drives at locations that may be closer to Salem
Pick Up Please – A Vietnam Vet organization where you can schedule a pick up.
Bikes are accepted as Bulk Items with Waste Management ($20/item) call 800-972-4545 to schedule
Books
The SalemRecycles Book Swaps, typically held every September and March, are not to be missed. See our Events Calendar or Facebook page for dates and location.
Some other possibilities:
Thrift stores such as Goodwill, Savers, and Lifebridge Thrift (limit 2 bags, no textbooks or children's).
More Than Words empowers youth who are in the foster care system, court involved, homeless, or out of school to take charge of their lives by taking charge of a business.

Drop off bin at SSU located at the College Drive entrance of the library

Wicked Good Books you can donate books to this local shop, no appointment necessary.  Please no textbooks, cookbooks, magazines or children's books.
Salem Little Free Libraries here's a list for little free libraries in Salem where you can donate or take books
Salem Re-reads, Facebook group for Salem residents to give away and ask for books.
Planet Aid bins located at 94 Bridge St, Shaws on Traders Way, North Shore Medical Center on Jefferson Ave, 95 Congress St, 50 Grove St, 19 Boston St, 36 Margin St, 323 Highland Ave.
PaperBack Swap is an online site that allows you to trade books with other users for free.
Salem Public Library has two main apps for checking out e-books and e-audiobooks:
* Libby (aka Libby by Overdrive)
Available to anyone in the NOBLE network* Hoopla
Available to Salem residentsBoth apps are listed on the library's homepage, salempl.org. For anyone who needs help using the apps, the library has handouts and is also happy to help people in person. There are no "returns" required or late fees associated with virtual checkouts.
Building Materials
Building Materials Resource Center has a reuse center for donated building materials. It is in Boston, here are no disposal fees if you are rehabbing, they do have a pick-up program for a nominal fee, and your donation is tax deductible.
Reuse Marketplace is another option
Habitat for Humanity ReStore at 58R Pulaski St., Bldg. 14 – Peabody – they accept cabinets, sinks, faucets, counter tops, tubs, toilets, tile, flooring, doors, windows and other building material
Dry wall or sheetrock can be recycled at these locations:
Bulky Plastics
Bulky Plastics are considered trash or a bulk item pick up.
Call Waste Management at 800-972-4545 and schedule a bulk item pick up $20/item.
If in good condition, see Furniture and Household Goods
Cameras
Salem's e-waste vendor, RMG Enterprise, accepts both digital cameras and older film cameras for recycling. Salem residents can bring these items to the City's quarterly e-waste collections, see electronics
If you camera still works, consider donating, see furniture and household goods
Car Seats
Cardboard
Cardboard Recycling Residential:
Cardboard is accepted in the curbside recycling program with Waste Management. Please empty and flatten boxes before placing in tote.
Recycling in Salem, MA is mandatory; boxes cannot go in the trash.
Moving boxes in good, reusable condition may be flattened and dropped off at UHaul's "free box swap" inside their office on Jefferson Ave. Moving boxes are also often donated for re-use via various social media gifting pages
Boxes in reusable condition are also accepted at AutoZone
Cardboard Recycling Commercial:
Carpeting
Carpeting
Waste Management will collect carpeting as a curbside BULK ITEM which is $20 paid directly to Waste Management. Phone Waste Management 24 to 48 hours in advance at 800-972-4545 to schedule the bulk item pick up, which will be on the same day as your recycling pick up.
Carpeting must be cut into 3 foot lengths, and tied in bundles with a maximum diameter of 1 foot.
Up to five bundles will count as one bulk item.
CDs, DVDs and Tapes
Bring unwanted CDs and DVDs to Salem Recycles semi-annual book swap, held every March and September.
*We are no longer able to accept VHS and cassette tapes at our Book Swaps
*Please make sure CDs and DVDs are in their original cases
See the Events Calendar for next date.  Book swaps are now held at the Salem Community Life Center, 401 Bridge Street.
You can also take CDs to the Record Exchange, 256 Washington St, Salem, which is a retail outlet for new and used records and CDs.
If you have a lot of CDs, DVDs and old VHS/cassette tapes to unload, check out GreenDisk.
Cell Phones
Electronic Waste: Salem Residents can drop off electronics to Salem High School the last Saturday of every quarter. Please refer to the Events Calendar.
There are many other options for recycling or disposing of cell phones:
Target has a cell phone recycling bin at the front of the store on Highland Avenue.
Best Buy has a trade-in or recycle program as well.
MedicMobile (formerly Hope Phones) supplies prepaid mailing labels and refurbishes donated phones for resale. It uses the profits to supply third-world medical workers with devices.
The Wireless Alliance accepts individual phones for recycling and also has collection programs for larger volumes of phones or tablets
Verizon's Hopeline from Verizon has some drop-off locations as well as a mail-in program with prepaid labels. Newer phones generate a credit toward your next purchase, while older phones are recycled and donated to victims of domestic violence to help ensure their safety.
You might also want to check out what the EPA says about recycling used electronics.
Wipe your phone before donating.  Here's how.
Christmas Trees and Greens
The City will pick up Christmas trees curbside during the two weeks after Christmas.
There is also usually a bonfire on Dead Horse Beach after New Years.
Please refer to the annual trash and recycling calendar for dates by clicking here
Whether you're taking your Christmas tree to the annual bonfire on Dead Horse Beach or placing it curbside for pick-up, please recycle it "naked," i.e, no decorations please!
Trees, wreaths and greens have other uses.
Leave the tree whole and convert to shelter and feeding station for birds. Here's how.
Branches can be turned into a brush pile to shelter small birds or to cover and protect perennial plants.
Rent a wood chipper and make homemade mulch.
If you have a FAKE or PLASTIC tree, call Waste Management at 800-972-4545 to schedule a bulk item curbside pick-up ($20/item).
Clothing, Footwear and Leather Goods
General
Many organizations welcome used clothing. Donate items in fair to good condition to homeless shelters, humanitarian organizations or second hand clothing stores. Here are a few local options.
LifeBridge Thrift Store at 47 Canal St, Salem. 978-745-2459
Beverly Bootstraps Thrift Store, 198 Rantoul St, Beverly.978-921-4710
Bring clothing to the SalemRecycles Swap 'n Drop. See the Events Calendar for the next date.
For clothing, including footwear, that is not re-usable, Salem Recycles holds a textile collection every November. See the Events Calendar for the next date. Visit the Textile Recycling page to learn more about other donation options in Salem!
Baby clothes
All of the above accept baby clothes. Here are two other options that focus specifically on infants.
Other Specific Uses
Or, reuse clothing and create DIY art!  There are lots of online suggestions.
Construction Debris
Durable Medical Equipment
REquipment — 800-261-9841 in Methuen for DME.  They accept wheelchairs, scooters, walkers, mechanical sling lifts, portable ramps, and more.
MassMatch 877-508-3974 for DME and AT
Electronics
E-Waste is one of the fastest growing categories of waste and often contains hazardous components making it unsustainable and unsafe to be disposed of in curbside trash and recycling.  This is why it is so important to dispose of it properly!  Here's how:
Electronic Waste Collection Days in Salem:  at Salem High School the last Saturday of March, June, September, December from 8am-noon.  There will be a $20 fee for TVs, monitors, microwaves, freon appliances (air conditioners, refrigerators) or exercise equipment, anything else with a plug is free. Please refer to the Events Calendar for more details.
Waste Management – 800-972-4545 for FREE curbside pickup of white goods (washers, dryers, stoves, water heaters, dishwashers & trash compactors) and other large household items
Drop off Options:
World Computer Exchange– 781-0925-3078 provides computers etc to those who don't have access
Gazelle –

Sell and buy used cellphones and other electronic devices
Eye Glasses and Contact Lenses
Fire Extinguishers
Local fire departments and businesses do not recycle old extinguishers. If you're able to depressurize an extinguisher (may take a few days of repeated releases) then it can be put in the trash or accepted by a scrap metal facility
Flags
Here are some locations where you can drop off old flags for proper disposal:
Fire Stations
You can return flags to fire stations and they will have the boy scouts properly dispose of them.  You can bring them to the Salem Fire Department headquarters on 48 Lafayette Street and Boy Scout Troop 83 will make sure they are disposed of properly.
Veterans Services
5 Broad St, Salem MA.  Third Floor
Kim F. Emerling
Veterans Agent
(978) 745-0883
Veterans of Foreign Wars
95 Derby St, Salem, MA
(978) 745-0010
Food and Cooking Oil
Food Scraps & Compostable Paper Goods:  Compost at home in your backyard or indoors with worms, or join the City of Salem's Curbside Compost Initiative by signing up at greensalem.com. Liquified oils can be left on top of the bin in a glass jar for Black Earth curbside pick up, with solid oil being place directly inside. We cannot have jars left at the Mack Park Drop Off Station
What about using my garbage disposal for food waste disposal? In-sink garbage disposals should only be used for certain types of food waste and liquids from food preparation.
Cooking Oil:     (DO NOT POUR DOWN THE SINK!)
Small quantities: Pour into an empty milk carton or old non-recyclable takeout container; store until full and place in trash.
Large quantities: Free collection from restaurants through the MA Alternative Fuel Foundation. A fee-based collection is available through Save That Stuff or Green Grease Monkey.
American By-Products accepts used cooking oil from everyone; however, it is costly for them to pick up from individual residents. They suggest an individual either bring the oil to the Lynn facility (77 Alley Street, Lynn, 781-593-3580) , or see if a local restaurant will accept the oil to include with their used oil, which ABP picks up.  Many Salem restaurants use this service, including Mandee's, Deb's Diner, Lena's Subs.  The restaurants get paid for this oil.
Donate Edible Food:
FoodPantries.org provides a list of many of the food pantries in Salem and surrounding towns.
Lifebridge: 56 Margin Street Salem, MA also accepts food donations.
Bread & Jams: 617-497-9200, 50 Quincy Street, Cambridge, MA. Daytime shelter accepts food donations. Food must be unspoiled and packaged in unopened cans, jars or dry boxes.
Food Not Bombs – Donate unopened food and toiletries (781-492-3009)
Furniture and Household Goods
You can schedule a bulk item pick up with Waste Management by phoning them at 800-972-4545. Pickup will be on the same day as your recycling day, and you must call at least 48 hours in advance. You may schedule up to 2 items per household per recycle week for $20/item. Please do not leave furniture on the curb for more than 24 hours.
Bulk items may include: couch, chair, desk, TV stand, dresser, bed frame, table, rug, grills.
Click Here for a full list of what is accepted.
ReSupply a Veteran-operated company, provides an in-home fee-based pickup option. ReSupply works with local charities to give your unwanted furniture and household goods a second life. ReSupply will go into the home, go up and down stairs, and even disassemble items if needed! They will pick up anything you are looking to part with, and residents will receive a tax credit for their donation. Click here to schedule or call 7654-DONATE
The Junkluggers of North Boston & Southern NH will come to your home and help find sustainable ways to dispose of your furniture and other household items.
Places that accept a wide variety of things:
Posting your item online:
Popular options are Facebook Marketplace, Giving in Salem, local Buy Nothing groups, TrashNothing and Nextdoor's For Sale & Free section.
Gasoline
| Community | Facility | Telephone | Details |
| --- | --- | --- | --- |
| Braintree | Clean Harbors Inc. | 781-380-7177 | Private facility, open to all municipalities. Saturdays, 8:00 a.m.-12:00 noon, March through November, and by appointment. |
| Sutton | New England Disposal Technologies Inc. | 866-769-1621 | Private facility, open to all municipalities. Open 20 Saturdays and 100 weekdays per year, and by appointment. |
| Westfield | New England Disposal Technologies Inc. | 866-769-1621 | Private facility, open to all municipalities. Open year-round on Monday, Wednesday and Saturday from 9:00 a.m. to 4:00 p.m. |
Glass
Glass Bottles & Jars: Rinse and recycle in the curbside program.
Broken Glass: Do not put broken glass in recycling.  Small amounts of broken glass can be securely wrapped up and placed in household trash.
Drinking Glasses & Glassware: Donate to Goodwill, Salvation Army or MA Coalition for the Homeless. Give away or sell on Craig's List. Bring small quantities to the Recycling Center during open hours only. Glassware often is leaded glass and is not accepted for curbside recycling.
Eyeglasses: Donate to OneSight at a participating retailer including Cambridgeside Galleria (Lenscrafters, Sears Optical or Sunglass Hut), or donate to Lions Clubs International
Light Bulbs: Incandescent bulbs go in household trash. Fluorescent bulbs should be taken to the DPW on 5 Jefferson Ave. CFL (compact fluorescent light) bulbs are accepted at Lowes, Home Depot and Whole Foods as well as the DPW on 5 Jefferson Ave.  See Lightbulbs for more details.
Car Glass: JN Phillips Auto Glass – located at 53 Canal St. Salem, MA, will recycle broken or replaced windshields – see website for more information or find another private disposal facility.
Hearing Aids
Lions Clubs – Send used hearing aids to the following address:
Massachusetts Lions District 33-S Hearing Foundation
P.O. Box 249, Somerset, MA 02726
Holiday Lights and Decorations
Holiday Lights
Recycling old lights:
HolidayLEDs.com – Christmas Light Recycling Program. They will mail you a 15% off coupon for their lights after you recycle.
Home Depot has recycling bins in stores for incandescent (not LED) light strings during November and December.
Lowes should also have a drop off box. You may want to call just to be sure they have a Christmas light recycle program at your local store.
Earth911 lists local recycling options for Christmas lights.
Holiday lights can be brought to the quarterly electronic waste collection at SHS.
Purchasing new lights:
When you go to buy new Christmas lights, be sure to get LED Christmas lights, which will lower your energy bill. LED lights are 80 percent more efficient than the old incandescent lights and LED lights can last up to 20 years. Compare that to incandescent Christmas lights, which usually don't last more than a year or two. Another benefit of LED Christmas lights is that they don't heat up so they are a safer option for Christmas tree decorating.
Gift Wrap
Recycle all gift wraps except those with foil, metallic inks or glitter, which should be put in the trash.
Follow Salem Recycles Facebook page for new and inventive ideas on gift wrapping alternatives.
Note that ribbon is NOT recyclable because it gets tangled in machines. But you can reuse it!
Halloween
Compost pumpkins.
The Great Pumpkin Smash Sunday November 6, 2022 with Green Beverly and New Entry Sustainable Farming Project.
Household Hazardous Waste
Household Hazardous Waste Day –Salem holds Household Hazardous Waste Days twice a year.  See Salem.com for dates and details.
Click Here to see what is accepted at Hazardous Waste Day
A note about latex paint: Cans of latex paint must be dried out and placed in your curbside collection trash bin with the lid on.  You can let it evaporate outside or add kitty litter to speed drying. They will NOT be accepted at Household Hazardous Waste Day, only oil based paint will be accepted.
Other options:
Click Here for more information about disposing of various types of hazardous waste
Bring items to Clean Harbors in Braintree, 1 Hill Ave (off Quincy Ave) on Saturday mornings from May through October. There is a small fee per pound Call 781-380-7100 for details.
Take items to Minuteman Hazardous Waste Facility  in Lexington. Fee based on quantity. They do eight collections per year. Call 781-862-0500 for details.
Jeans/Denim
Got old/worn jeans and don't know what to do with them?
Visit Blue Jeans Go Green, donate them, or reuse to make bags, wallets, etc.
See Clothing, Footwear and Leather Goods for more options!
Jewelry
Donate your jewelry to local thrift stores – see our clothing tab
Repair your fine jewelry at local jewelers
Repair your costume jewelry for free at our Repair Cafe  – see our Events Calendar
Keys
Keys for Hope scraps metal keys and fobs to support food pantries.
Lightbulbs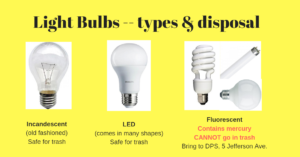 Incandescent bulbs go in household trash.
CFL (compact fluorescent light) bulbs are accepted at Lowes, Home Depot and the DPS on 5 Jefferson Ave.
Fluorescent bulbs and tubes should be taken to the DPS on 5 Jefferson Ave. (Salem residents can recycle ALL mercury-containing items at this location).
If you break a fluorescent bulb, they contain mercury, follow clean-up directions here.
Mattress and Boxspring
Per new state regulations, mattresses and box springs can no longer be disposed of as trash and instead must be recycled. The City of Salem has contracted with Tough Stuff Recycling to provide curbside mattress and box spring recycling. The curbside cost to Salem residents is $20/unit paid directly to Tough Stuff Recycling.
To view an FAQ about mattress recycling through Tough Stuff Recycling, please visit www.salemma.gov/mattress. To schedule your curbside pick-up, please visit Tough Stuff Recycling. If you have additional questions about this service, please call the City's Recycling and Trash Department at 978-619-5672.
Once you've scheduled your curbside mattress pick-up, please pick up a free mattress bag from either: Salem DPW from 8-4 pm Mon-Fri (5 Jefferson Ave) OR Engineering Department (98 Washington Street 2nd floor) from Mon-Wed 8-4, Thurs 8-7, or Fri 8-12.
Medications, Pharmaceuticals, Sharps
Sharps (needles, syringes and lancets)
Metal
Curbside: In your blue curbside toter, please recycle only those metal items listed on the toter lid, namely rinsed food cans, aluminum cans, foil and pie tins.
Scrap Metal: Most other metal items NOT listed on your recycling toter's lid can be recycled at a scrap metal facility.  Search online for a local facility that accepts the type and amount of metal you wish to recycle.
One suggestion: North Shore Scrap Steel
Music and Media (including Musical Instruments)
There are several local options for recycling musical instruments.
They can be donated to the Salem Public Schools Music Department by contacting Mrs. Cynthia Napierkowski (Salem High School Band Director) at 978-740-1136.
Plummer Youth Promise has an active music program and often needs musical instruments. Call Candice Pechelis at 978-744-1099, extension 119
Unwanted or used musical instruments in working or almost working order can be brought to the Salem YMCA for a volunteer music instruction program. Call the Y at 978-744-0351.
Musical Instruments can also be donated to The Musary in Hamilton. They accept and refurbish instruments for students.
Office Supplies
Earth911 provides information on reusing and recycling office supplies.
Recyclebank has a great guide to recycling a variety of office supplies.
Paint
Cans of latex paint may be dried out and placed in your curbside trash bin, with the lids off. Let evaporate outside or add kitty litter to speed drying. These will not be accepted at Household Hazardous Waste Day.
Please do not put oil based paint in the trash.  Bring it to Hazardous Waste Day or drop it off at one of these locations:

Bring items to Clean Harbors in Braintree, (781)380-7100, 1 Hill Ave (off Quincy Ave). Small fee per pound. Saturday mornings from May-October. Call for details.
Bring items to Minuteman Hazardous Waste Facility in Lexington. (781)862-0500. Fee based on quantity. 8 collections per year. Call for details.
Can I donate leftover paint?
If you have leftover, unwanted paint that is in good condition, you can donate it to nonprofits and other agencies in your area for reuse in remodeling, set design and other applications. Organizations that accept unwanted paint include high school drama departments, community theater groups, schools, charities and places of worship.  A local chapter of national agencies such as Habitat for Humanity and Keep America Beautiful will also gladly accept unwanted paint.
Click here to learn more about recycling your paint with RECOLOR
Can paint be dried out, then thrown away?
Latex, water-based and acrylic paints can be disposed of in this manner. As long as these paints are fully dried, you can throw them into your household trash can.
Oil-based paints should never be tossed in the trash, even if they are dried.
Can paint cans and lids be recycled?
Paint cans cannot be recycled curbside in Salem. Steel paint cans are recyclable, but not every community accepts paint cans as part of the local recycling program. Check with your local recycling or HHW coordinator for more information. To recycle, the paint can must be completely empty and all paint contents dried prior to recycling.
Paper & Document Shredding Services
Paper Recycling:
Paper is acceptable in the curbside recycling program with Waste Management.  Color does not matter, nor does thickness of paper.  If there are embellishments on it like glitter, metallic imprints, bits of plastic, etc, that should go in the trash. Shredded paper is not recyclable curbside; please place in trash.
Paper Shredding (fees apply):
Pillows
Goodwill's website states they only take decorative pillows, not bed pillows.
Northeast Animal Shelter does not take them.
The Salvation Army donation guide,  states they DO accept pillows. As long as the pillows are clean and dry, not damaged and not stained, they accept them.  If you place pillows in a Salvation Army drop box, they ask us to bag the pillows first.  (If they receive pillows that turn out NOT to be resalable, they will recycle them.)
Salvation Army – Where to Donate near Salem
Drop box, 60 Farm Ave, Peabody
Drop box, 159 Endicott St., Danvers
Drop box, 1 Franklin St., Lynn
Thrift store, 10 Monroe St., Lynn
Thrift store, 209 Broadway (Route 1), Saugus
Plastic Bags, Films and Wraps
Plastic Bag Recycling
Even if you shop with reusable bags, and REFUSE, REDUCE, and REUSE the best you can, chances are you still bring some plastic into the home.  Did you know that plastic bag recycling stations accept much more than the ubiquitous grocery bag?  Here's info to help you maximize your recycling:
Plastic bags can be recycled in retail stores only.
CLICK HERE to learn more about what is accepted at retail stores. 
Never put plastic bags in your curbside recycling bin, or put recyclables inside plastic bags.  They jam recycling equipment
CLICK HERE  to watch a video of the plastic bags damaging recycling machinery. 
YES – DO RECYCLE IN STORES ONLY
Recycle bags that are empty, clean and dry; remove receipts and trash
Grocery and produce bags
Newspaper bags
Dry cleaning bags (no receipts/staples)
Sandwich/ziploc/bread bags (clean and dry)
Cereal bags
Bubble wrap
Plastic outerwrap from toilet paper, paper towels, diapers
Case wrap from cases of water
Bags with sealed air used for packaging (deflate the air cushions)
Stretch wrap from furniture or electronics
Any plastic bag labeled with:  2, "HDPE," "PE-HD"
Any plastic bag labeled with:  4, "LDPE," "PE-LD," "LLDPE"
Retail bags (#2 or 4) with string/hard plastic handles removed
NO – DO NOT RECYCLE
NO bag with food in or on it
NO garbage bags
NO food or cling wrap, e.g. Saran
NO prepackaged food bags (frozen food or pre-washed salad)
NO chip bags or candy wrappers
NO bags with paint or glue
NO compostable plastic bags
NO bag with a recycling symbol or # other than those described in the "yes" column
Producer Take Back
Many companies have take-back programs. Here are a few:
Best Buy: $25 fee for monitors and TVs . No gift cards. Best Buy also has a haul-away program..
Dell: Free recycling of any Dell product, and other brands when buying Dell.
Apple's program works for trade-in on new products or, if your old device has no value, Apple will recycle for free.
HP: Free recycling of any HP or Compaq product, small fee for other brands.
Printer Cartridges – STAPLES: $2 Staples Rewards per recycled cartridge.
GreenDisk: check their website or call 1-800-305-DISK.
Propane Tanks
For a large number of empty gas grill propane tanks, follow this link for more information on Blue Rhino pick-up program.
Aubuchon Hardware, 50 Enon Street, Beverly MA. (978)-927-1320 Propane | HardwareStore.com
Holden Oil, 91 Lynnfield Street, Peabody MA. (978)-531-2984 accepts propane tanks at a cost of $2 per tank.
Refrigerator
Rubber Bands
Recycling is not an option for rubber bands but you can reuse them. 
wind them around hangers to keep clothes from slipping off  
seal your bags of chips, cereal and frozen food 
wrap them around jar lids to get a good grip
donate them to schools for crafts projects, to the post office or any business that uses them. Visit the USPS webpage on sustainability here.
Shoes
Annual Textile Drive in November: refer to Events Calendar
Salem Recycles' annual Swap 'n  Drop event on the Salem Common is held annually and is a great place to drop off shoes of any kind.
Athletic Shoes:
Other Shoes:
New options appear regularly.  Search "shoe recycling" online.
Silica Gel Packets
These annoying packets have a multitude of household uses, from keeping important documents and photographs dry, to dealing with a wet cell phone, or keeping them in your toolbox to prevent tools from rusting.   Learn more or search online for even more uses.
Smoke Detectors
Smoke detectors have a limited life span; it is suggested you replace them every 8-10 years.  Recycle Nation is a good source of information on how smoke detectors work and what to do with them at the end of their useful life.
Dispose: Certain smoke detectors contain a radioactive sensing device, but the radioactivity is so low that it is considered harmless. It is okay to dispose in the trash so long as the batteries are removed before disposal.
Return to Manufacturer: Many manufacturers accept returned radioactive detectors for disposal as hazardous waste.  These smoke detectors should have an "I" on the back along with the symbol for radioactivity. 
Other Disposal Resources: Curie Environmental Services is the only organization that actually recycles smoke detectors. The advantage of this, in addition to dealing with any even mildly radioactive material responsibly, is that it avoids additional plastic ending up in landfill.
If you have questions, call the retailer where you bought your smoke detector
Snack Bags/ Wrappers
Subaru / TerraCycle partnership – Look for the boxes below at Subaru retailers in Belmont, Danvers, North Reading and Wakefield.
Here's what they're collecting:
✅ Any brand of disposable cups, lids, and straws
✅ Any brand of candy and snack wrappers (Potato Chip and Cookie Bags)
✅ Any brand of coffee or creamer capsules (K-Cup)
Snow Blower / Shovel
Snow Blower – snow blowers are not accepted as bulk items.
Here is one option to get rid of snow blowers: Junk King
Shovels – shovels are not recyclable and should be placed in the trash.  It is OK if they do not fit perfectly in the trash and the handle is sticking out a bit.
If they are still in good condition, please consider donating them.
Click here for a few possible options of places that will accept shovels
Sports Equipment
You can resell or buy used sports equipment or donate equipment to charitable organizations that will recycle them. The City of Salem can also use recycled equipment. Call the Recreation Department at 978-744-0180.
Other options:
Play It Again Sports accepts both new and used equipment. They have several locations in the Boston area.
Coast to Coast Paddle is part of Adventure Gear Exchange accepts consignments for all sorts of used outdoor adventure equipment, including snow sports, water sports, hiking / camping / climbing, and things that roll (e.g. bikes, roller blades). It's located at 296A Cabot Street, Beverly.
Styrofoam
Salem residents should not put Styrofoam in curbside recycle bins, even if it has a recycling symbol.
You can place it in your trash bin.
Rigid, white styrofoam (Expanded Polystyrene) can be brought to Save That Stuff at 200 Terminal Street, Charlestown, MA (617) 241-9998.
Click here for more details about what they collect.
One excellent way to reuse styrofoam is in the bottom of large planters. Break up pieces of styrofoam or use styrofoam peanuts (the non-dissolving kind) to take up extra space before topping with soil.  Here are some more options on how to reuse styrofoam.
TerraCycle
You can recycle certain streams of TerraCycle during our Textile Drives!
TerraCycle is a social enterprise Eliminating the Idea of Waste®. In 21 countries, they tackle the issue from many angles. We have found that nearly everything we touch can be recycled and collect typically non-recyclable items through national, first-of-their-kind recycling platforms.
They make it possible to recycle difficult items that are unable to be recycled curbside.
Heres what we are collecting:
– SWIFFERS: save all used, dried Swiffer pads.
– RAZORS: save all brands of reusable and disposable razors, blades, & cartridges, as well as any flexible or rigid plastic packaging they come in.
– ORAL CARE: Toothbrushes, toothpaste tubes, mouthwash bottles, and floss containers. Save all brands, plus toothbrush packaging.
– DEODORANT: All brands of deodorant containers and caps.
– OFFICE SUPPLIES: All brands of empty writing instruments, glue sticks, watercolor dispensers, paint sets, and flexible packaging.
–RUBBERMAID: All brands of well-used food storage containers (glass and plastic).
Textbooks
There are many options for recycling textbooks.
Sell back to college bookstores.
Sell on Amazon or Ebay.
There are often cash-for-books trucks on college campuses at the end of semesters.
Many elementary, middle, or high schools will accept them.
Last, there are online organizations that collect used textbooks for distribution both in the United States and in other countries.

We are no longer able to accept textbooks at our Book Swap that are older than 10 years old.
Textiles (General)
Textiles is a broad subject, covering everything from clothing to carpeting. SalemRecycles provides both information and events to encourage textile recycling.
Our annual Textile Recycling Event takes place every November.  Check our Events Calendar for the next date and location.
The annual May Swap 'N Drop is a great time to swap or just recycle clothes and other household items. See Events Calendar for more information.
The Clothing, Footwear and Leathergoods section contains additional information.
In addition, there are numerous organizations and collection bins throughout Salem where you can recycle textiles.
Bay State Textiles – They partner with schools and communities to create a process for diverting clothing donations along with shoes, and fabrics away from the solid waste stream. Bay Sate find a bin at all of Salem Public Schools, and on Salem State Campus
Goodwill – Clean, tattered, torn clothing, singleton socks/gloves or bedding (except pillows) can be brought to Goodwill. These textiles will be processed into new products such as carpet underlayments or other mats. Clothes or other textiles not suitable for the American market will get a second life in another part of the world. The good news is they will not go in a landfill.  Goodwill has drop-off locations:

Parking lot of the Peabody Stop & Shop (19 Howley Street, Peabody, MA 01960)
Swampscott Stop & Shop (450 Paradise Road, Swampscott, MA 01907).

HELPSY (formerly Recycle That) has several locations in Salem:

St. Peter's Church, 24 St Peter Street.

H&M Garment Collecting. Customers are encouraged to bring in unwanted garments of any brand and in any condition to any H&M store.

North Shore Mall in Peabody
Square One Mall in Saugus.

Planet Aid bins located at 94 Bridge St, Shaws on Traders Way, North Shore Medical Center on Jefferson Ave, 95 Congress St, 50 Grove St, 19 Boston St, 36 Margin St, 323 Highland Ave.
Salvation Army maintains drop-off bins at these locations:

60 Farm Ave, Peabody
159 Endicott St., Danvers
1 Franklin St., Lynn;
Thrift store, 10 Monroe St., Lynn;
Thrift store, 209 Broadway (Route 1), Saugus.
A note about pillows; the Salvation Army accepts them as long as the pillows are clean and dry, not damaged and not stained.  If you place pillows in a Salvation Army drop box, they ask us to bag the pillows first. (If they receive pillows that turn out NOT to be resalable, they will recycle them.)

Massachusetts Department of Environmental Protection's Beyond the Bin Recycling Directory will tell you where to recycle, reuse, or repurpose your textiles throughout Massachusetts.
For more information on textile recycling in general, see the Massachusetts Department of Environmental Protection's page on textile recycling page.
TVs
Salem's Quarterly E-Waste Collection is held the last Saturday of March, June, September, & December from 8:00AM-12Noon at Salem High School. E-Waste includes almost anything with a plug. There is a $20 fee for each television.
Best Buy – Limit two TVs per household per day. Best Buy's recycling page has details and restrictions on the type and size of TVs accepted. Best Buy now charges $25 for all TVs and monitors.
Video Games
Visit your nearest GameStop to find out the value of the video games in exchange for a GameStop gift card. There are numerous GameStop stores in the area, including Highland Avenue, Salem.
For more information on recycling games, including damaged ones, go to RecycleNation.com.
Wine Corks
You can compost natural corks (not plastic ones)
ReCork is the largest collector/reuser of corks in the country. Here is Recork's list of Boston area drop-off locations.
The nearest location is Unpacked Living 156 Cabot Street Beverly, MA.
Wine corks are also a great thing to reuse and make into art, click here for some inspiration!
Winter Coats
Many organizations sponsor winter coat drives but because the need is seasonal, information does not become available until August or September at the earliest.
OneWarmCoat.com is a nationwide website that provides information on local coat drives.
Local thrift shops, such as Goodwill, Salvation Army, Beverly Bootstraps and Lifebridge also collect winter coats, hats, mittens, etc.
Wood
Plywood and wood from fallen limbs may not be disposed of in curbside trash or recycling.  Plywood and other wood from construction projects must be disposed of through a private contractor. Click here for options to dispose of construction and demolition debris wood
Wood Pallets:
Suggestions for disposing of wood from fallen limbs:
If the limb is less than 3" in diameter it can be taken to the transfer station on 12 Swampscott Road along with other yard waste.  The transfer station is opened from 7-3 on Saturdays and 9-5 on Sundays.
If the wood is larger than 3" in diameter:

Post free wood on Craig's List.
Do a google search for projects utilizing fallen tree limbs–there are LOTS to choose from.
Wool Dryer Balls
Wool Dryer Balls can be used in place of dryer sheets and can cut down dryer time, eliminate chemicals, and soften fabrics! Check out this DIY website for instructions on how to save money and make them yourself. They're also sold at Target, Walmart, and grocery stores.
X-Rays
X-Ray Film Recycling  will pick up old/used x-rays anywhere in Massachusetts…if the quantities are large enough.  While many people with just one or two films will discard them in the trash, that just adds to the landfill problem.  A better solution?  Per X-Ray Film Recycling, put them in an envelope and send to  BW Recycling 2035 SW 31st Avenue Hallandale, FL  33009
Recycle Nation is a good source of information on the value of the silver in your x-rays, why we should recycle them, and how to do it.
Yard and Garden
For soil and plant material:
Dirt or soil: Call a private hauler or try giving away good soil on Craig's List.
For Salem residents: view the City of Salem's Recycling and Trash Calendar for yard waste pick-up dates.
For non-organic junk that sometimes ends up in yards:
Please note: Plant pots (the inexpensive plastic pots containing seedlings, vegetables and flowers you buy) are not recyclable.  Please trash if you cannot reuse.